Our HOME page has additional information on PLAYGROUND SAFETY LABELS, PLAYGROUND INSPECTION TOOL KITS, expert witness services, etc.
We are very sorry, but there is a hold on audits and inspections for property owners, insurance companies, etc., as we are only doing inspections for litigation cases using ZOOM for now. Thank you!
Obtain a STATEMENT OF COMPLIANCE for your playgrounds! THIS INCLUDES NEW & OLD EQUIPMENT. Our opinions will be backed up by ASTM Standards, CPSC Guidelines and ADA accessibility laws.
FREE SAFETY LABELS WITH EVERY PLAYGROUND INSPECTION / AUDIT!
Click here for label information, requirements, references, etc. concerning Safety Signs/Labels.
Scott Burton is one of the original Certified Playground Safety Inspectors (CPSI), and is also S.A.F.E. certified!
The National Playground Safety Institute agrees that a "third party" statement of compliance (other than IPEMA) "is another form of compliance assurance of ASTM standard compliance" (P.S.I.N.A., 4TH ED., page 158, 6b). Our statement of compliance can assure compliance to ASTM, CPSC, and federal ADA (accesibility) laws.
Past clients include Disney, IKEA, hundreds of attorneys, hundreds of parks & recreation departments, public and private schools, child care centers, chain restaurants, museums, zoos, homeowners associations, insurance companies, etc.
Your liability is far less if you find out what your hazards are and make an overall plan to get them corrected, as opposed to NOT having an audit performed at all and waiting for an accident to happen! The rules have been out since 1981.
IMPORTANT NOTE; SAFETY PLAY, INC.® does not sell playground, sports or recreational equipment, surfacing, or even parts, so the work we perform for you remains free from bias or conflict of interest, and is INSURED. We DO, however, draw upon many years of PAST manufacturing, litigation and consulting experience to offer you the best specific modification recommendations! In addition, we do NOT make repairs to your equipment, not so much as a nut or a bolt. This way, we will not profit from it since it is a conflict of interest and makes it a bias service, so beware of the companies that perform audits yet still offer these products and services. "Local" companies may not provide you with the more important factors of having the expertise and experience of having WRITTEN the rules that ALL STATES must adhere to, as well as having other important qualifications. See the "QUALIFICATIONS" page and be your own judge!
We have performed playground safety inspections / audits at OVER 3,000 SITES so far, with a variety of equipment at each site, which makes it literally THOUSANDS and THOUSANDS of pieces of equipment that have been inspected / audited, inside and outside of the USA!
Playground Audits and Inspections are performed on the equipment, layout, signage, surfacing and fencing for Playgrounds and Recreation Areas.
OUR QUALITY AUDITS / INSPECTIONS HAVE THE FOLLOWING "UNIQUE" ATTRIBUTES;
We provide "THE MOST THOROUGH and DETAILED" site audits / inspections available! Other audits / inspections do not compare to the details outlined in ours which provides you with the most thorough reports! By being a co-author of the rules, our audits / inspections are performed using the most recent documents that are in effect at the time to keep you current and ahead of the game! This also helps give you the PROPER understanding of the rules so that you KNOW you pass when we say it passes, or fails when it actually does fail.
Each hazard is referenced by the most recent, and upcoming, ASTM & ANSI Standards, CPSC Guidelines and ADA laws, complete with section and figure numbers for easy references.
Inventory of all equipment at each site, complete with photographs and a plan view (drawing) of each site.
Compliance verifications on surfacing, layout, signage and equipment with the Standards, Guidelines, ADA accessibility laws, current applicable laws, and what is safe for your specific site.
INEXPENSIVE MODIFICATION RECOMMENDATIONS are given which include specific modification techniques to save you MONEY! We try to suggest removals as a last resort.
Warning and information sign / label recommendations to comply with ASTM, CPSC, ANSI Standards, and the law.
We also verify compliance to ASTM #F2049 Playground FENCING Standards (only those sites that "require" fencing).
We have performed services in AND out of the U.S.A. (Canada, Sweden, Guatemala, Cayman Islands, Jamaica, British Virgin Islands). So don't be concerned about us not being in your "neighborhood" since we typically combine jobs with other clients in your area, which combines costs and in turn saves you money! We DO, however, draw upon many years of PAST manufacturing, installation, litigation and consulting experience to offer you the best specific modification recommendations!
SEND US your pictures for a free (sample) verbal report with solutions for your hazards.
Inspections are "routine maintenance inspections" that are performed on a frequency based upon factors such as type of equipment, age, vandalism, use, etc., usually by your own qualified personnel as an on-going process. Inspections are commonly performed, and yet the most hazardous points that are being missed are found only in an audit! So, "Inspections" are NOT "Audits".
Audits are extremely detailed reports that discover hazards that are not being found in typical inspections. A professional audit lists hazards in a priority manner so that you can get underway with a safety plan. This allows you to handle the most dangerous conditions first, and then the others, or you can budget for the others later if you must. Audits are generally performed once per year on each piece of equipment (as opposed to inspections that are done more frequently and check for a far lesser amount of things), and again if the equipment becomes modified, moved, or has pieces added to it later. Audits should also be performed whenever the rules are revised.
Your staff, even if Certified Inspectors, may detect only so much for a number of different reasons. They may have been "out of the loop" of playground safety compared to an expert in the field. The Standards and Guidelines have been updated, and your inspectors may not have been trained on the latest updates. The Standards and Guidelines can be difficult to interpret correctly, and they are contradictory on some issues. There are a LOT of rules found in CPSC that are not found in the ASTM Standards, and vice versa! Your inspectors may not be experienced enough with the various proper hazard identification techniques that are so commonly missed. They may not have the experience that it takes to be able to properly design a specific modification that will pass all of the tests. Quite frequently, one hazard might be created by fixing another, and it is left undetected! Having a third party audit / inspection helps eliminate "biased self-inspection" accusations.
Has the manufacturer or installer promised to supply equipment that complies with the Standards and/or Guidelines? If they HAVE promised compliance and you want to be certain that there are no hazards, we can check the plans, designs, and/or site itself to see if any hazards exist and help you to get them corrected!
LIABILITIES FOR OWNERS; you are STILL liable if you choose NOT to have an audit or inspection performed and be told about the hazards. This is because you are in the "business" of providing this equipment and will face the claim that you "knew or should have known" about those hazards. Also, you are liable if you know of a hazard and do nothing at all, and should make the attempt to get the hazards corrected. If you are concerned about liability for fixing the hazards, hire an outside contractor to do it and "transfer" that liability! DO NOT hire someone that does the audit / inspection AND the repairs, since this is bias, as well as an extreme conflict of interest.
WARRANTEES should NOT be void on equipment that you DO NOT modify. If they are, this tells you something about the supplier. FOR EXAMPLE, if one of many pipes break on one component and you replace the one pipe, the warrantee may be void on that pipe portion of the component, but the warrantee should not be void on another unrelated component.
We accept the major CREDIT CARDS shown below (a small credit card convenience fee applies, but we help pay some of it).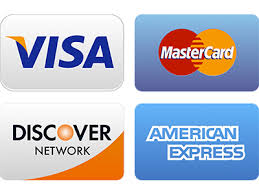 Email safetyplay@mindspring.com or, call our
TOLL-FREE Nationwide sales line: 1-888-878-0244 for a quote on products or services.
Serving clients in the USA and abroad! However, there is a suspension on all air travel right now. Sorry.
SAFETY PLAY, INC.®
FLORIDA
10460 Roosevelt Blvd., #295
St. Petersburg, FL. 33716
CALIFORNIA
7095 Hollywood Blvd., #1308
Los Angeles, CA. 90028
TOLL-FREE Nationwide sales line: 1-888-878-0244
Additional Phone or Fax: (727)-522-0061
E-mail us at: safetyplay@mindspring.com
COPYRIGHT 2022. ALL RIGHTS RESERVED.
Updated on 1/8/2023